i'm still searching for a rocking chair. i have a few favorites.
OPTION A:
i would love a rocker like one of these. i love scandinavian design, especially midcentury danish. these would look so pretty in my nursery. i think if i could have any chair, it would be an old teak rocker of danish design like these.
OPTION B:
i've also been
looking for one of these for a long time
. i stumbled upon this one today and was reminded of my love for the vintage shape, mixed with the modern chrome. don't worry, it's only $1200 on ebay. psh... if only there was one that i had access to...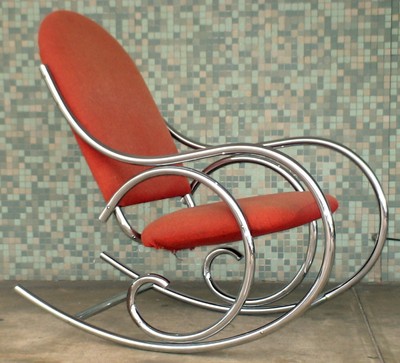 OPTION C:
or i could go with a classic eames rocker. they come in so many great colors now!
THE STICKY PART:
what do you think? i've been nursing thom in a folding camping chair since we moved here (umm...4 months ago... yeah....) but i really want to find the perfect rocking chair and keep it forever. that would be the really eco-conscious thing to do. should i hold out for the perfect chair at the right price?
OPTION D:
or should i just get something cheap (ikea's poang chair?) for right now because really, anything's better than a camping chair...? maybe i'd upgrade later, or maybe i'd really love that poang chair and hey, it's only a hundred bucks. tough decision.
what would you do? if money were no object, which one would you choose? since money is an object, what would you do if you were me?